by Mark Bretz Aug 5, 2019 Updated Aug 5, 2019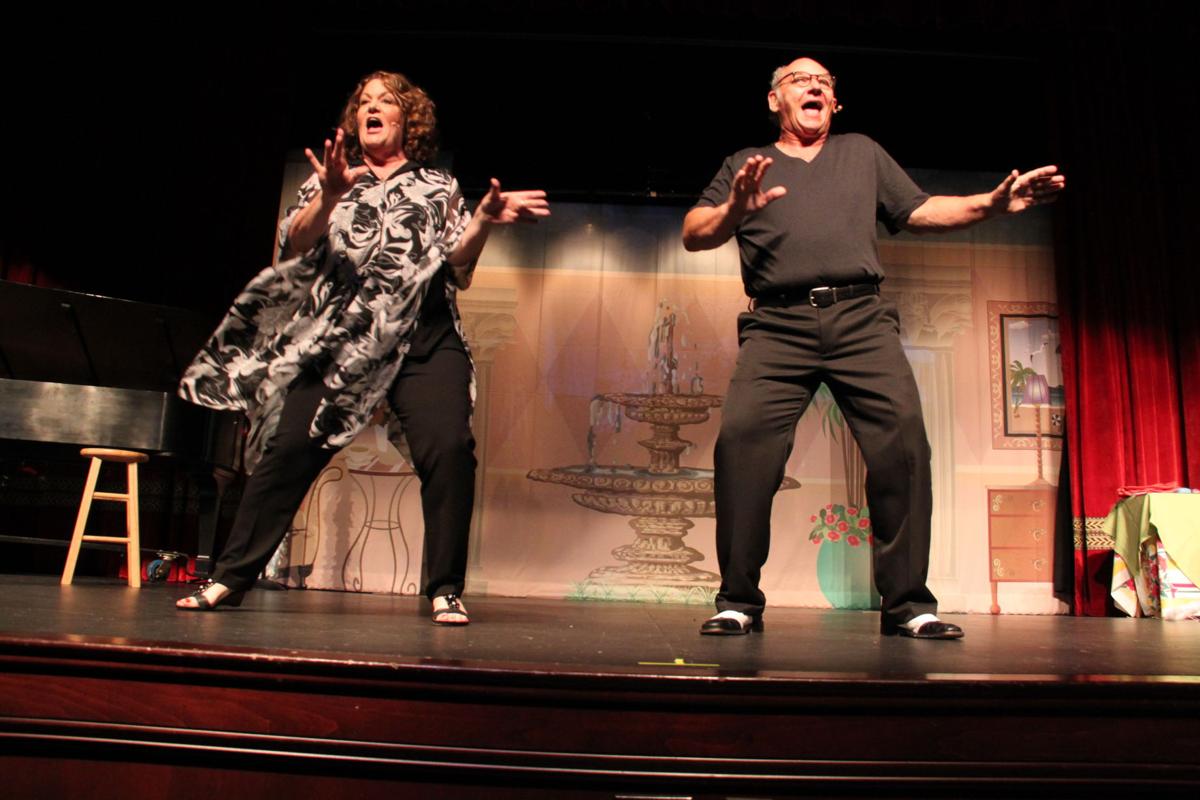 Story: An older couple who have recently passed on looks back on the last years of their lives, which were spent in a senior living community known as Pelican Roost. They introduce the audience to some 18 different characters who contribute to the fun times, the eccentricity and wacky adventures for the residents of the full-service, assisted living center and retirement community.
Highlights: Co-creators Rick Compton and Betsy Bennett bring their hit musical comedy to The Playhouse at Westport Plaza for its St. Louis premiere.
Other Info: With the reliable assistance of pianist Jeremy Franklin Goodman, Compton and Bennett played to a full house on opening night. Their one-act, 85-minute show, which is termed a "vaudeville-esque revue" on the production's web site, was created in 2008 in South Florida, running for more than a year at The Villages, "the Pelican Roost of Central Florida."
Since then it's played in San Francisco, New York City and cities throughout the country. The show features original songs written by Bennett and Compton as parodies of pop culture elements such as the "Help! I've fallen and I can't get up" infomercial that was a late-night TV stalwart for years.
Bennett and Compton portray several characters apiece, such as Bennett as Naomi Lipshitz-Yamamoto-Murphy, an on-site realtor who has lived in three of the four options available to Pelican Roost residents, one with each of her three spouses, moving up the ladder each time one of her husbands has died. "I not only live here, I sell here," she proclaims in her tacky attire and thick New York accent.
Compton plays a sleazy attorney who promises legal action for pretty much anything that may happen to the senior residents of Pelican Roost. It's not very funny when Compton first introduces the character and descends quickly from there with each subsequent appearance.
There are songs joking about Viagra, about a 93-year-old man who cruises in his Cadillac and brings a new meaning to 'drive-thru window,' and concerning an unfortunate tattoo from earlier days. Songs carry such titles as The Lost-My-Dentures-on-Steak-Night Blues, WalkerDude@FacebookDotCom, Vernon's Burnin' Passion and Hypochondriacal.
Assisted Living: The Musical has been a hit in cities wherever it has played, says its web site, and already most of the tickets for its St. Louis run have been sold. Both performers enthusiastically belt out their tunes and revel in the comedy, and many in the audience appeared to enjoy themselves.
The two writer/performers and accompanist Goodman work hard throughout to find nuggets of laughter and a continuing zest for life among the roster of retirement community residents, even if at a bit slower pace. Who can argue with success?
Musical: Assisted Living: The Musical
Company: Emery Entertainment
Venue: The Playhouse at Westport Plaza
Dates: Through August 11
Tickets: $55; contact metrotix.com or 534-1111
Photos courtesy of Emery Entertainment